Ever wondered the secrets to French Parisian style? Learn the basics "Parisian chic" with this ultimate style guide.
The enigma of French Parisian women is a code many of us would like to crack. Be it in real life, entertainment, or on social media there's something magnetic about the way a Parisian woman carries herself. Who doesn't want to live effortlessly and carefree in today's world–and look good incredibly chic doing it?
Sign me up, please.
While that "je ne sais quoi" attitude is more of a long-term goal on the personal growth train (or an innate quality you were born with, lucky you), Parisian chic style is much more attainable.
Whether you're looking to simplify your wardrobe or update your style, the French Parisian aesthetic is the perfect place to begin. This guide will teach you the best tips to dress like a French Parisian and what Parisian-style pieces you need in your wardrobe today.
This post is all about French Parisian.
What Is French Parisian Style?
French Parisian style embodies what many would call a "casual chic" aesthetic. The perfect blend of casual and chic, which I often discuss on WISW. Casual chic is the formula for how to look stylish every day without looking like you tried too hard.
The Parisian chic way of styling outfits takes the casual chic look a step further. After all, we have our Parisian sisters to thank for the timeless aesthetic that keeps on giving. There are certain elements to the style that align with the effortless Parisian, as opposed to a stylish woman you'd find on the streets of New York City.
These elements are the sweet spot of what it means to dress "Parisian chic". Neutrals are at the front and center of a French wardrobe. Accent colors are found in statement pieces and accessories.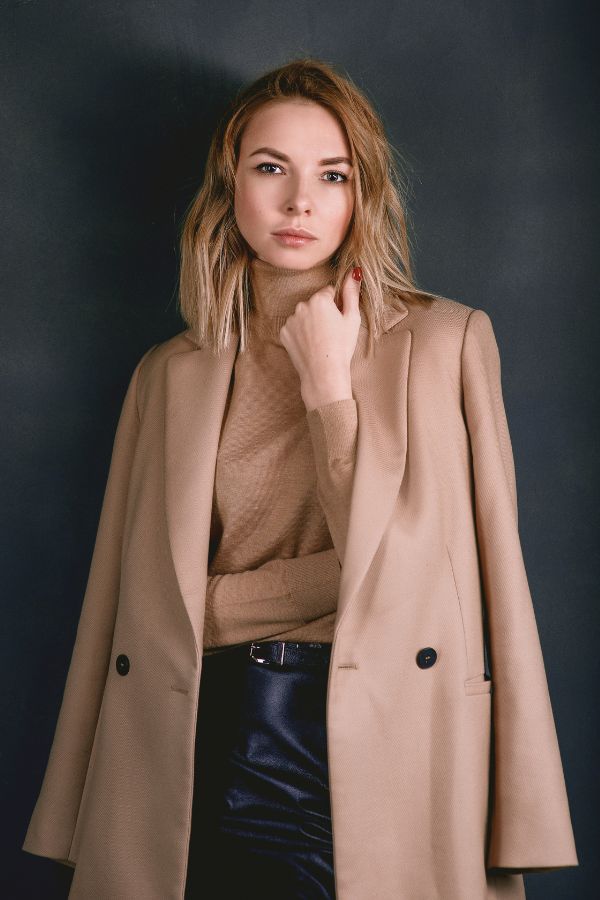 French Parisian style is timeless, but current. Elevated, but relaxed. Effortless, but purposeful. To sum it up, Parisian chic is perfectly juxtaposed.
Related Post: My Formula for Everyday "Casual Chic"
What Are The Characteristics OF French Parisian Style?
These style tips will teach you how to recreate the French Parisian style for yourself.
1. It Takes Effort To Look Effortless
One of the biggest misconceptions about Parisian style is that it's truly effortless, meaning it doesn't require effort. I can assure you that's not the case. The illusion is that it's effortless.
Great style is done on purpose and with effort. The less is more approach is what you should focus on when styling outfits. This means less embellishments (or elements) in your outfit, but what is done is done very well. Attention to detail, if you will.
For example, if you partially tuck in a shirt (or French tuck as it's often called), be purposeful about it. The styling process considers how much fabric is tucked in, where it's tucked into your pants, and how the rest of the garment lays. Through trial and error, you determine the absolute best way to tuck that shirt into your bottoms.
And you don't stop until you achieve that.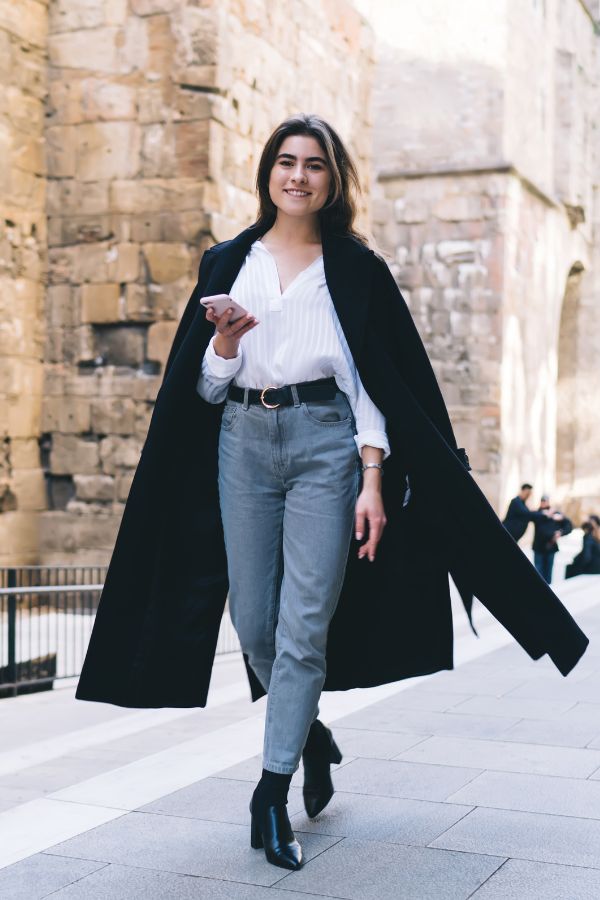 A French tuck looks effortless, but the few minutes it took to achieve it is the fine line between messy and chic.
Related Post: 11 Simple Style Tips To Always Look Good
2. Curate Your Capsule
It's hard to talk about French Parisian style without mentioning the capsule wardrobe. A capsule wardrobe is a hard-working set of wardrobe essentials that are cohesive, timeless, and incredibly well-fitting.
A capsule wardrobe is versatile, having enough purposeful items to create a multitude of different outfits throughout the season (and even the year, depending on your climate). A French capsule wardrobe typically includes a white button-down shirt, basic white T-shirt, pair of jeans, black trousers, a neutral blazer, flats, white sneakers, a trench coat, and other classic items.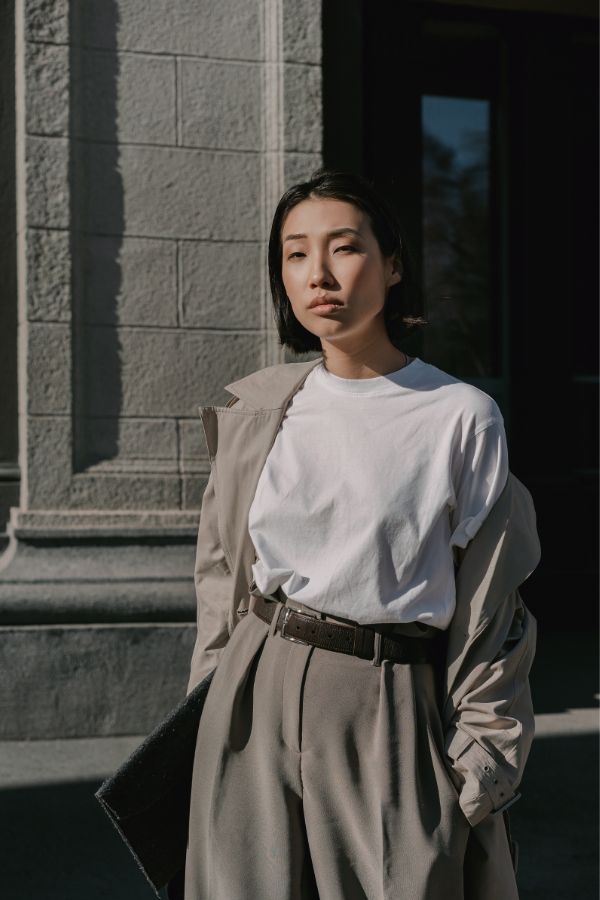 The idea behind a minimalist wardrobe is that the items are never-fail, always in style, and they fit you. This last point is just as important as the rest because you want to wear and re-wear these items. If they don't fit, you won't wear them and will waste money on other pieces (that most likely won't fit you either).
Take it to the tailors, baby. The best-fitting clothes aren't too tight or too baggy. Clothes that fit incredibly well are one huge step to effortless, Parisian chic style.
Related Post: How To Start A Capsule Wardrobe This Year
3. Work Your Uniform
The next thing about effortless, French style is to adopt a basic uniform. The classic "Parisian uniform" consists of a pair of straight-leg jeans (often Levi's), with a white button-down and a pair of white sneakers (often Vejas or Stan Smith's). This simple outfit is has become the foundation of a multitude of chic outfits for everyday wear.
A relaxed white collared shirt is easy to dress up or down and can be worn in an endless number of styles. Denim is typically high-to-medium-waisted and medium-blue wash, which styles with every color in the rainbow. White sneakers are comfortable and minimalist, a far cry from athletic wear and casual gym attire (which you won't see on Parisian women out and about anyway).
Is this a basic outfit? Yes, but like I said this is your foundation. It's a starting point from which you incorporate other items from your wardrobe to create different looks.
Here's some examples of the basic outfit, French Parisian style:
Adding a chic leather belt to elevate your look
Layering a tank, T-shirt, or turtleneck underneath
Layering a cardigan or sweater over top
Adding a blazer or trench coat
Accessorizing with a scarf around you neck, in your hair, or as a belt in your jeans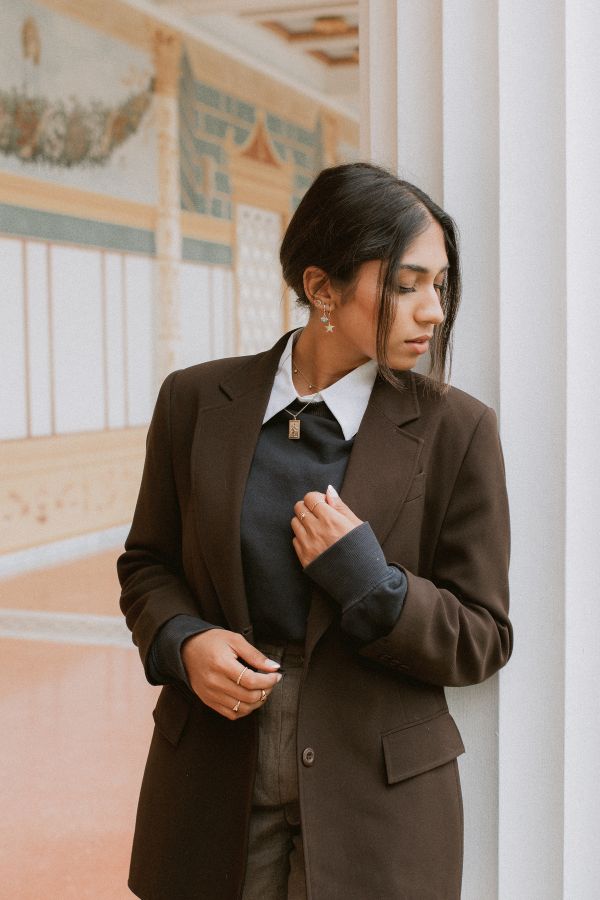 Additionally, take the Parisian chic uniform to the next level by swapping out one of the items for something else, such as a pair of ballet flats instead of sneakers. Try a silk blouse instead of a cotton poplin shirt, or style a pair of leather trousers instead of denim.
Related Post: How To Style Clothes You Already Have
4. Natural Is Better
Women with Parisian style choose a more natural-looking aesthetic, especially when it comes to beauty. This can mean anything from wearing your hair in its natural texture, allowing those silver strands to shine through, or going for the no makeup "au naturel" look.
I tend to laugh at this a little bit–especially the whole "I woke up like this" approach to hair, which I only imagine possible for certain hair textures. My frizzy, wavy-curly hair tends to need a little more TLC in the morning (plus I'm not sure the mad French scientist hair falls into the aesthetic yet).
The best tip for mastering that French "au naturel" look is to work with your natural hair to create a style you love. Rather than flat-ironing those ringlets, use a foam or gel for definition and scrunch out the crunch after your hair dries. Focusing on hair health by using hair masks and reduced heat styling will enable better-looking natural hairstyles (in my experience).
For those who love makeup, try a natural makeup look instead of using heavy foundation and contouring. Or go for my favorite beauty method and focus on the health and care of your skin. Healthy skin radiates on its own and looks great with mascara, blush, bronzer, and a simple lip balm.
5. The Element Of Surprise
One thing that embodies the aesthetic of French Parisian is the element of surprise. This is how you take a basic outfit from your capsule wardrobe and make it Parisian chic.
Parisian women are rule-breakers; known for doing the opposite of what's expected when it comes to styling. If sneakers are expected, they'll wear kitten heels. A basic T-shirt will be dressed up with a short skirt instead of a pair of denim. An oversized blazer will go over a slip dress.
And the list goes on.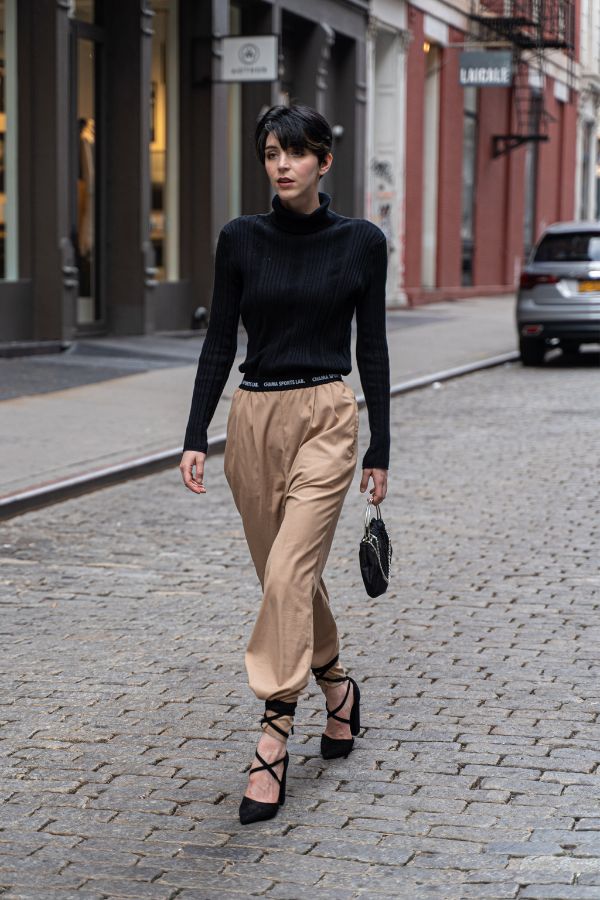 My rule is to always add one element of surprise to your outfit whether it's a statement accessory or a cute pair of shoes. This is a great way to incorporate the latest fashion trends into a timeless look without going overboard. Do this in such a way that makes you feel confident rather than an imposter in your own clothes.
Related Post: How To Style Your Clothes Using Juxtaposition
6. Invest In Classics, Budget Shop Trends
Parisian chic means keeping things simple. A constantly rotating wardrobe requires more money and effort to maintain. Plus, you'll always have to figure out how to style new clothes.
Do as Parisian women do and invest your money in timeless pieces such as handbags, outerwear, and footwear. If you have a lower budget, minimalist pieces are always more timeless looking than heavily monogrammed or embellished items.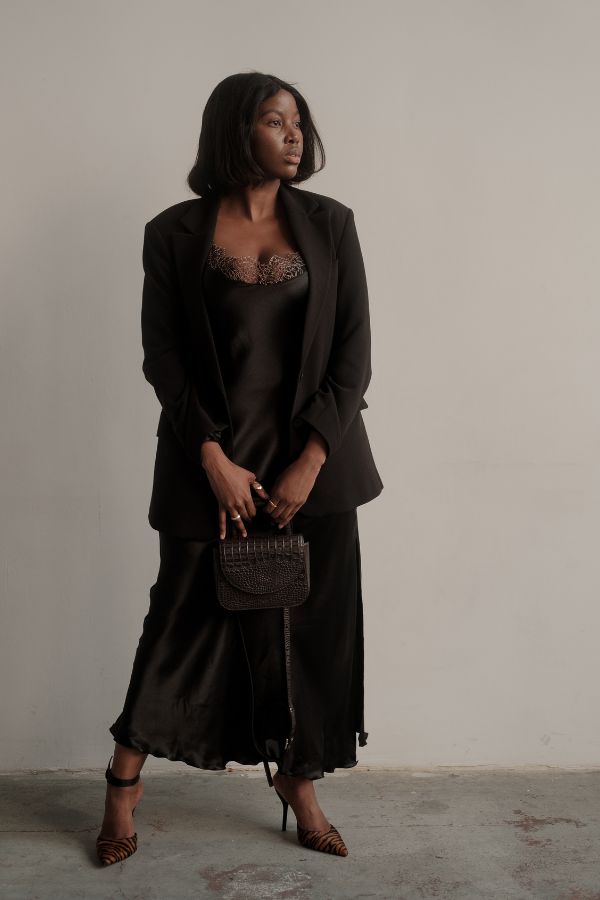 One-of-a-kind pieces or vintage items are also a key style characteristic of a French woman's wardrobe. Plus, you can usually find luxury items at a fraction of the cost. I love Etsy for this reason.
Carefully consider trends and purchase wisely, as you know these pieces have an expiration date much sooner than they'll wear out.
Related Post: Wardrobe Planning: A Beginner's Guide To Your Dream Closet
7. Keep It Simple
Parisian style is mastering the art of not overdoing it with your hair, makeup, or outfit. It's honestly like the Three Bears mentality: not too much, not too little, but just right. I like to think of it as "you are enough, so let's highlight what you've got".
This can take practice if you're a bit of a maximalist but always start with less than you'd expect when styling an outfit, a la Coco Chanel. Remember, the element of surprise is key for that French Parisian look.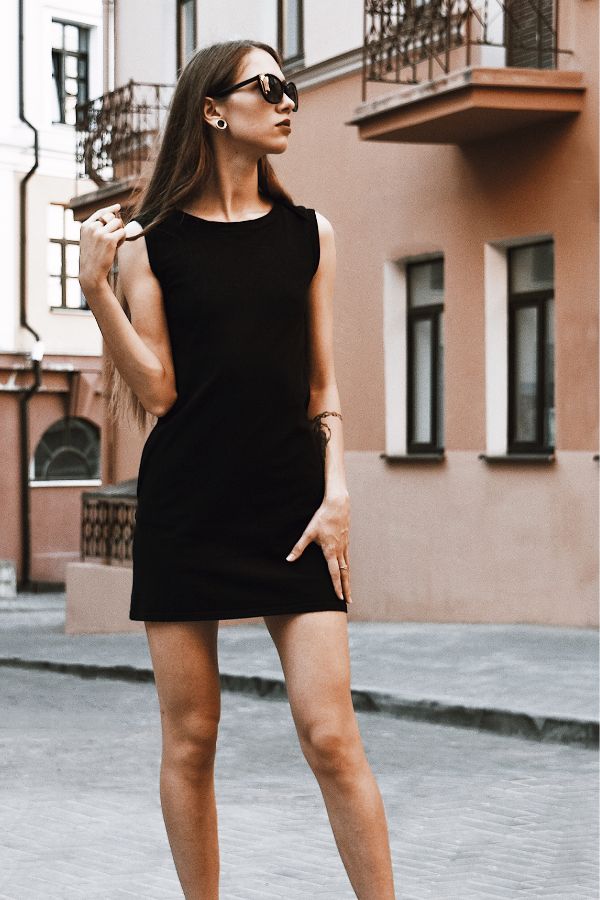 For example, when everyone else is wearing a necklace, earrings, bracelet, watch, and rings take the road less traveled and wear one or two simple pieces. It completely changes up the look and allows your natural features to shine.
Avoid logos or keep them to a minimum (one small logo per outfit). Stick to one trend per outfit. Keep patterns classic such as polka dots, stripes, paisley, or simple florals.
And lastly, have fun styling. If you aren't having fun, you're trying too hard. C'est la vie.
Related Post: How To Dress Simple But Stylish | 7 Easy Tips
French Parisian Capsule Wardrobe
The following items are must-have wardrobe essentials for Parisian chic style.
Crisp White Button-Down Shirt
Basic White T-Shirt
Striped Breton Top (La Marinière)
Silk Blouse
Cardigan
Oversized Knit Sweater
Little Black Dress (LBD)
Wide-Leg Trousers
Medium-Wash Straight-Leg Jeans
Tailored Blazer
Trench Coat
Long Wool Coat
Loafers
Ballet Flats
Simple White Sneakers
Ankle Boots
Crossbody Bag
Tote Bag
Silk Scarf
Cat Eye Sunglasses
Leather Hip Belt
French Parisian Brands
Aside from some of the well-known designers, be sure to check out these French brands for the ultimate taste of French Parisian style.
All of this talk about Paris makes me want to pack my bags and get away. Any takers?
This post was all about French Parisian
Related Posts: