Need ideas for what to wear on a first date? These first date outfits are exactly what you need to impress your date without being too extra.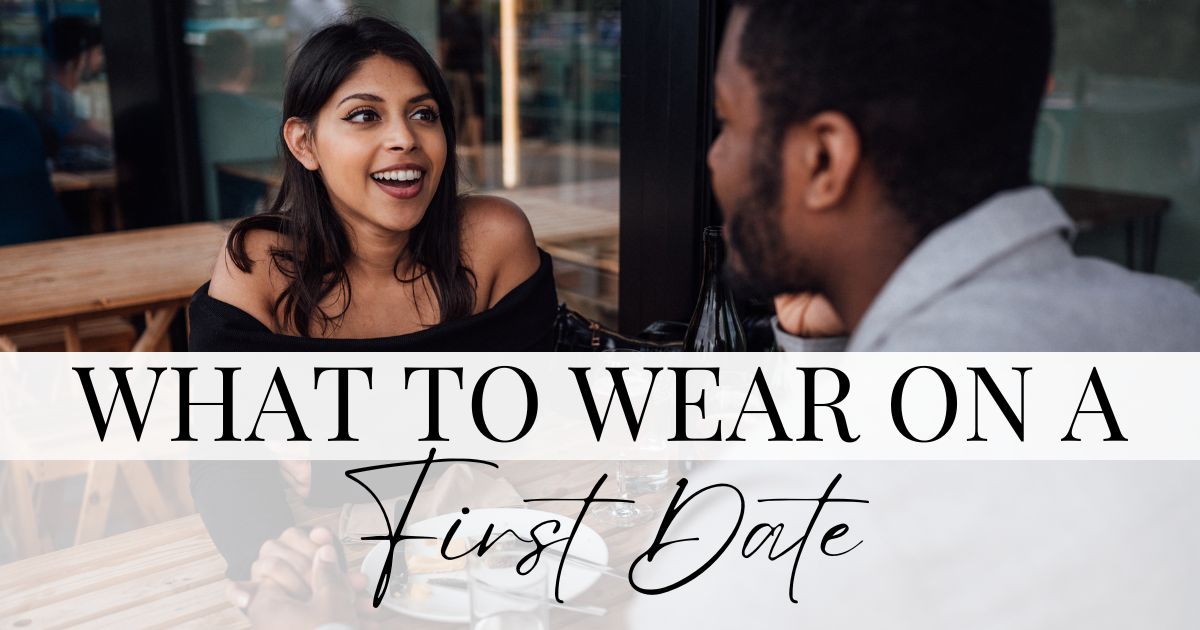 Why is it always so tough to decide what to wear on a first date? Whether you hate them or love them, first dates are an important step in a relationship. It's your chance to make a first impression with a potential future partner. Of course, you want to look good, but how do you dress without looking like you're trying too hard?
Honestly, the best first date outfit is the one you feel most authentic in. Depending on the location of the date, you may be more dressed up or down, but dressing in a way that makes you feel "like you" is the way to go. After all, first dates are more like interviews than anniversaries. If we can't be authentic in the way we dress, we're already showing up as someone else, which isn't a great way to start a relationship.
These first date outfit ideas will help you decide on the perfect outfit for your first meetup, whether it's at a casual coffee shop, an intimate restaurant, or a loud bar.
This post is all about what to wear on a first date.
What To Wear On A First Date Woman
What Not To Wear On A first Date
We might as well take care of the first-date outfit no-no's, or what not to wear on a first date. The most important aspect of a first date outfit is that it's comfortable and wearable. This means the clothes fit and are easy to wear without picking, pulling, adjusting, or walking funny during the date. It makes things awkward when you're constantly hiding your bra straps, tripping over stilettos, or dressed in a miniskirt when there's a minor blizzard outside.
Bottom line, if you're not comfortable in what you're wearing, it'll be a distraction for both you and your date.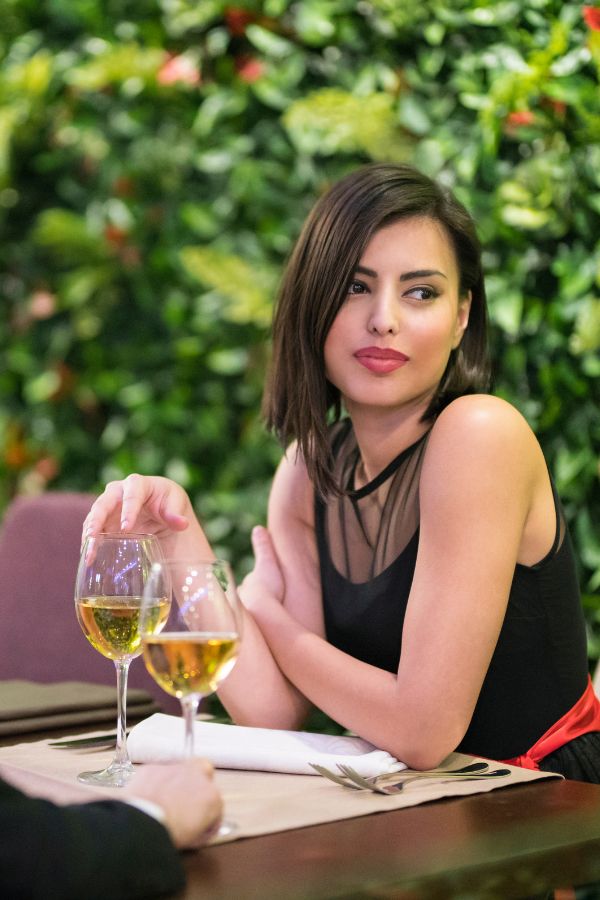 Here are some ground rules for what to wear on a first date, regardless of the setting:
Clothes fit your properly
Undergarments that should be hidden are hidden (seamless items are great under form-fitting clothes)
You can walk in your shoes
Clothes are clean and ironed/steamed
Clothes are in good condition (not missing buttons, no stains, loose threads removed, etc.)
Clothes are appropriate for the time of day and season
Since a first date is a type of interview, you want to dress respectfully toward the other person. This doesn't have to mean conservatively, rather your outfit shows that you honor the experience of being on a first date with the other person. This will mean different things to different people, but use your intuition for what feels right.
Related Post: How To Dress Nice Everyday: 7 Seriously-Good Tips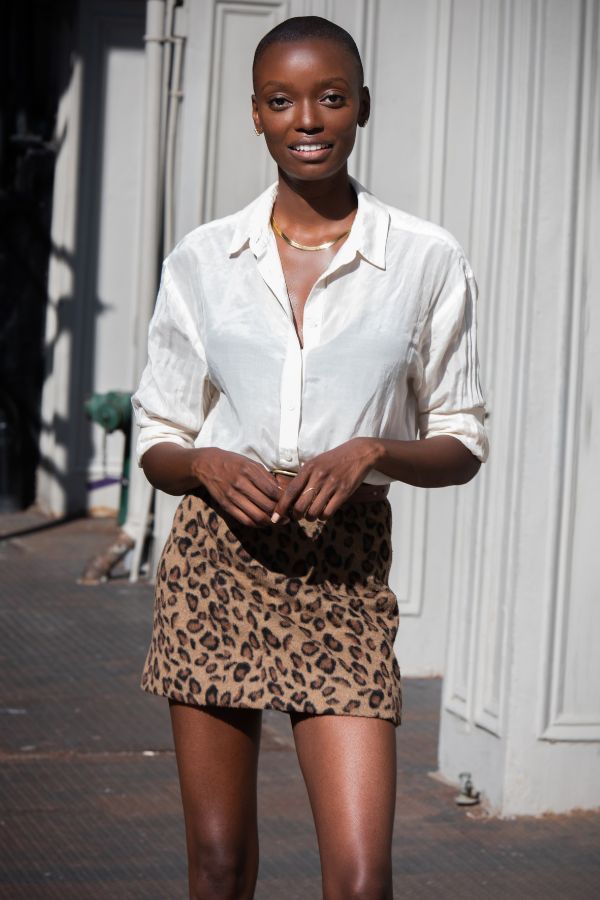 What Color To Wear On A First Date
What color to wear on a first date is a popular question many women have. The answer really depends on your purpose for asking the question. A traditional answer to this question could be red because a lot of men like a lady in red. While this is certainly true, we're not in the old days anymore. So let's dig into color theory and what it means for your first date outfit.
Related Post: Fashion Advice You Need To Ditch In 2023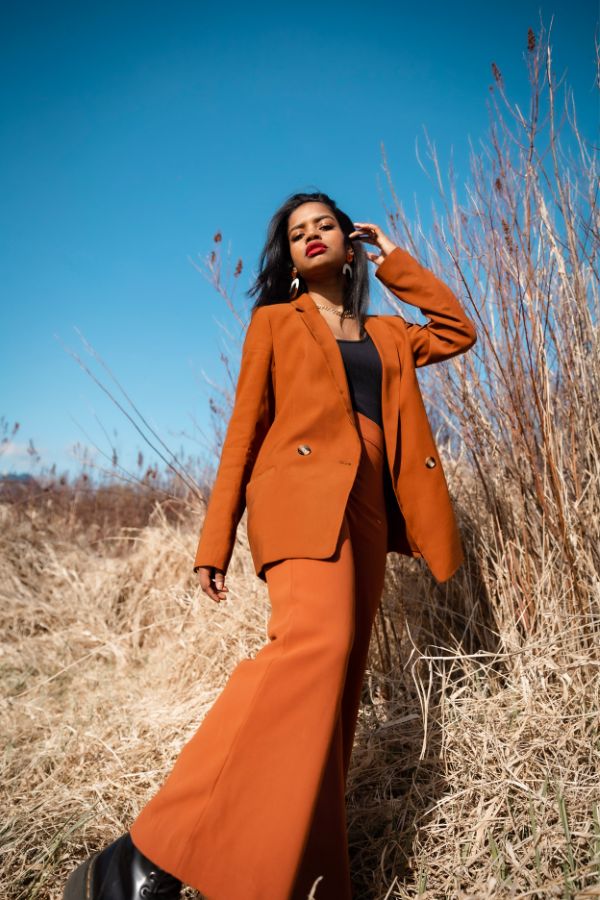 Colors can evoke different energies and emotions. For example, red stimulates passion, fire, and desire, which is why it can be a color for first date outfits guys love. However, colors may have different meanings in different cultures, so keep that in mind if you're an American dating in Asia, for example.
It's also fun to dress in colors that match the time of year, such as warm reds, oranges, browns, or yellows for fall or cool pinks, blues, and greens for spring. Dark colors work well for date night outfits and light and bright colors are good for day date outfits for summer.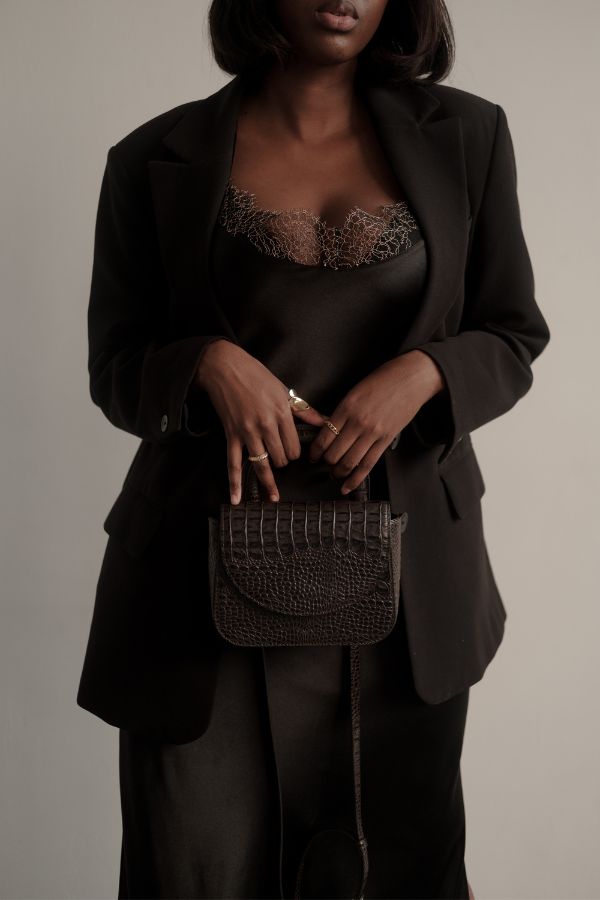 Choose Colors That Brighten Your Complexion
The best advice for what to wear on a first date is to choose a color that's flattering for your skin tone and skin undertone. If you're not familiar with this, every person's skin has an undertone that's either warm, cool, or neutral. Those with a warm undertone look best in warm colors and gold jewelry while those with a cool undertone look best in cool colors and silver jewelry. Ladies with a neutral undertone look good in either warm or cool tones and jewelry.
There are a few tests to find out your skin undertone, which are covered in the article below.
Related Post: 10 Elegant Style Tips To Look More Sophisticated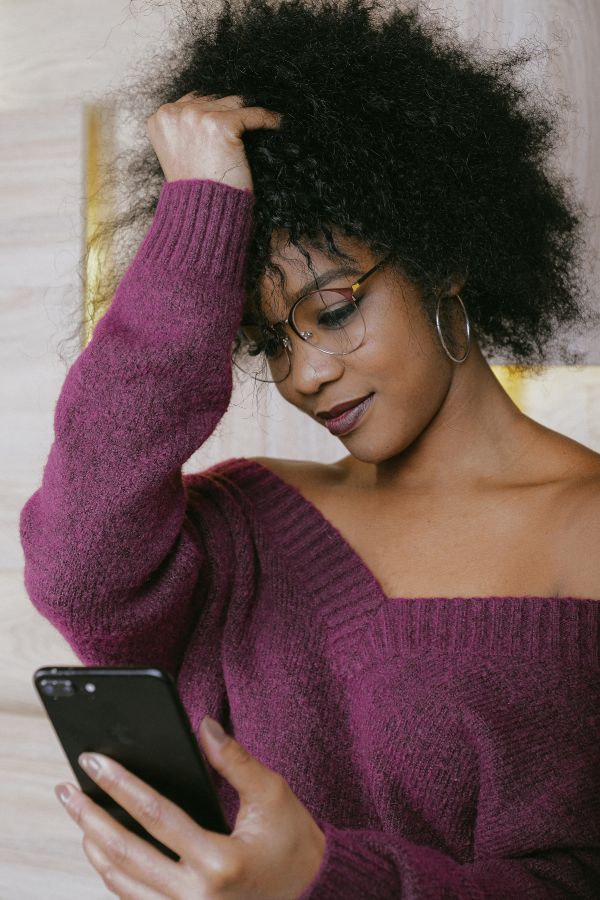 A quick way to determine whether you look flattering in a certain color is to take a few articles of clothing (i.e. dresses, tops, or shirts) and take turns holding them below your face. Determine whether your face looks brightened or washed out. The items that brighten your face are the colors you want to wear. You can also do this with jewelry, too.
Should I Wear Heels On A First Date?
This is a great question for what to wear on a first date, but nothing to stress over. Your first date is about dressing in what's authentic to you, so if you normally wear heels when you go out, it may make sense to wear them on your first date. If you rarely ever wear heels or they're hard to walk in, then don't feel obligated to wear something that doesn't feel right.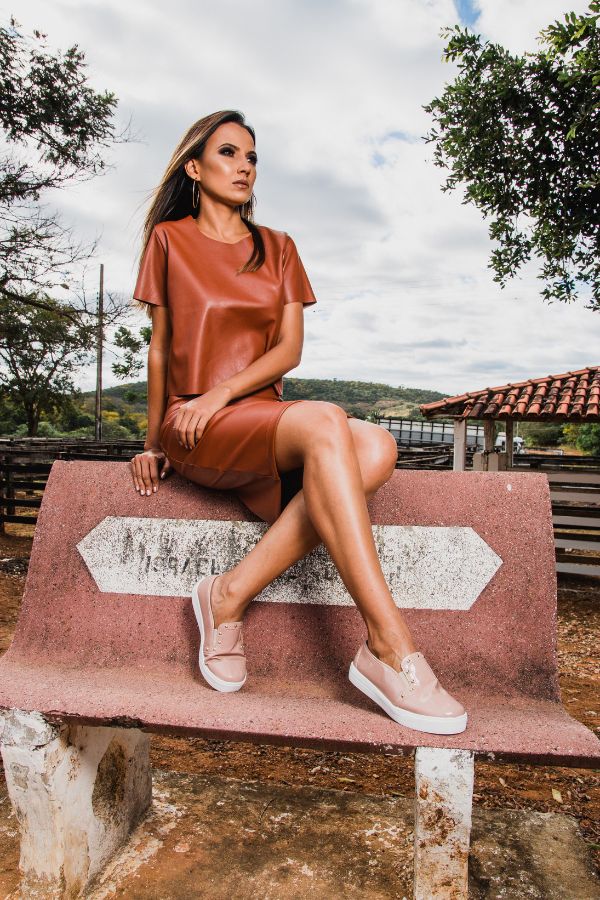 If you know you're heading to a swanky restaurant or setting where things are on the formal side, you may want to try a comfortable heel such as a kitten heel, wedge, platform, or block heel.
An alternative to heels is a pointy-toe flat that looks elegant because it slightly elongates the legs.
Related Post: 5 Petite Style Tips You Might Be Missing Out On
What To Wear On A Casual First Date Female
Casual first dates are great because the atmosphere is more relaxed than a fancy setting. Dress in an outfit that is equally cute and comfortable for what to wear on a casual first date. Here are a few casual first date outfit ideas.
T-shirt + Jeans
Jeans and t shirt first date: the quintessential casual look for a first date to the movies or what to wear to an arcade date. Opt for your favorite band t-shirt (or the latest concert you attended) or style a classic white t-shirt. Play up your casual look with statement earrings or a necklace, or add an elegant waist belt and handbag for some contrast.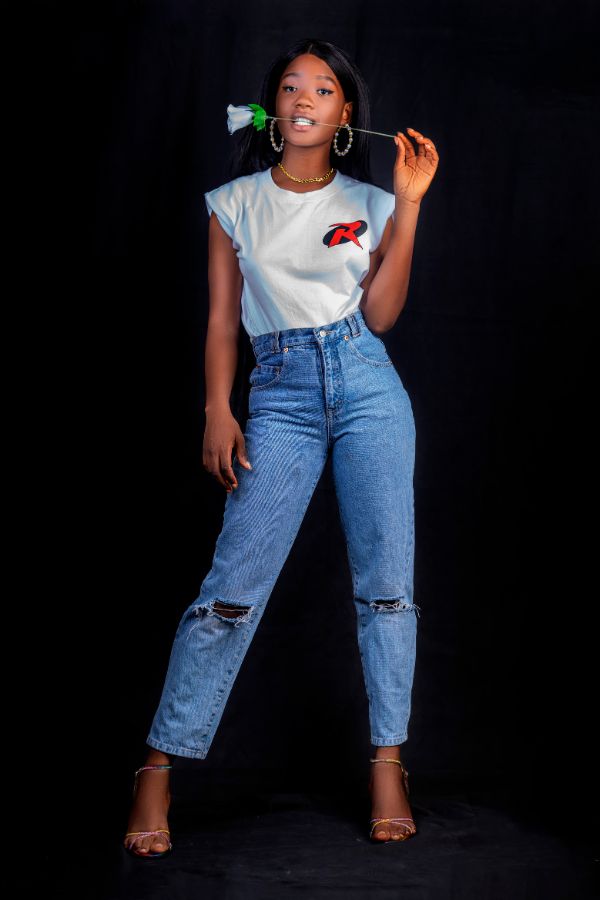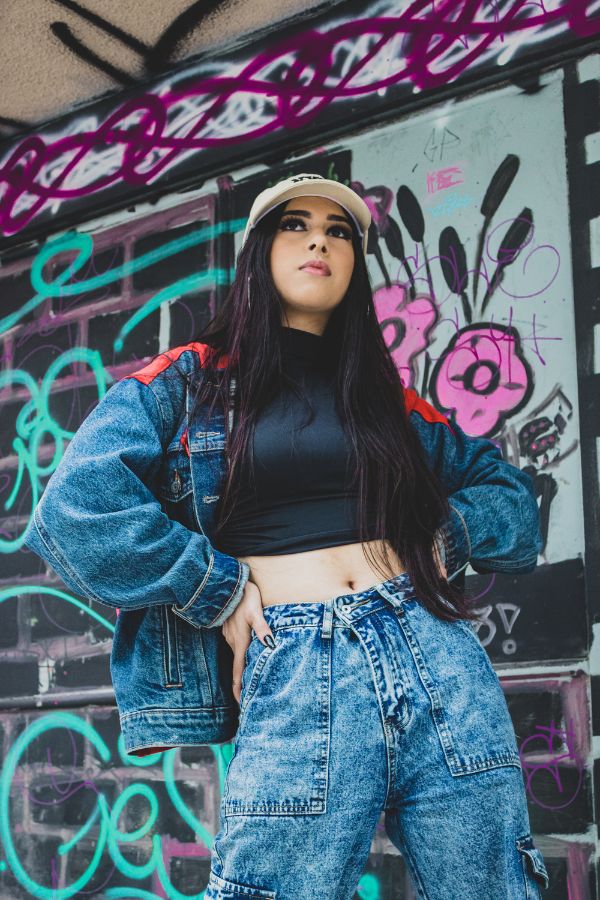 Fitted Top + Cargo Pants
Who else was waiting for cute cargo pants to come back around again? The feminine appeal of a fitted top against the more masculine style of the pants is a great contrasting look for a casual first date outfit whether you're seeing live music or grabbing a matcha latte.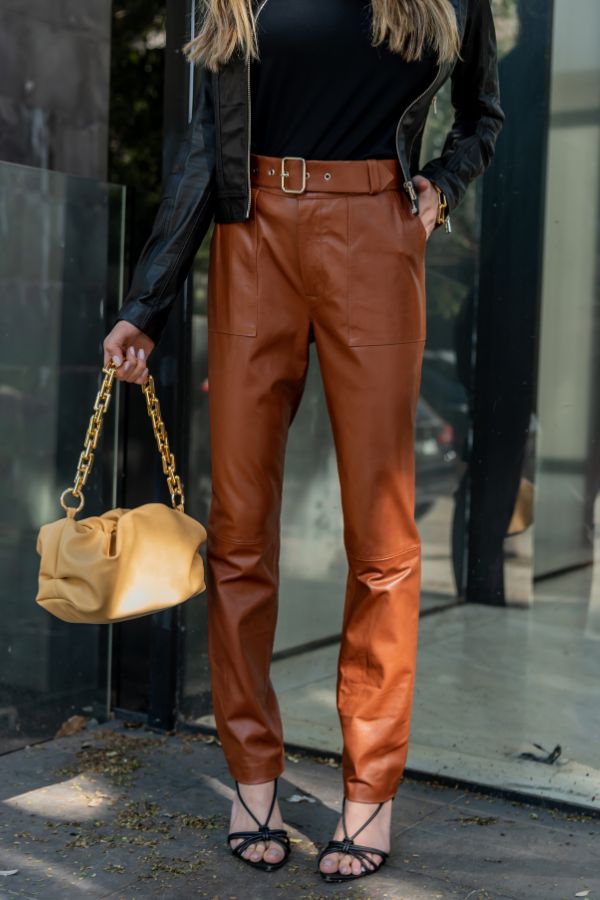 Collared Shirt + Your Best Jeans
I've mentioned this before on What Is She Wearing regarding wearing your best jeans. We all have a pair of jeans that fits us incredibly well…your butt looks amazing in them, right?! Grab those jeans, add a classic collared shirt, some silver or gold jewelry, and a pair of low-heeled boots or sandals, and you have one of the best lunch date outfit ideas.
Related Post: How To Dress Simple But Stylish | 7 Easy Tips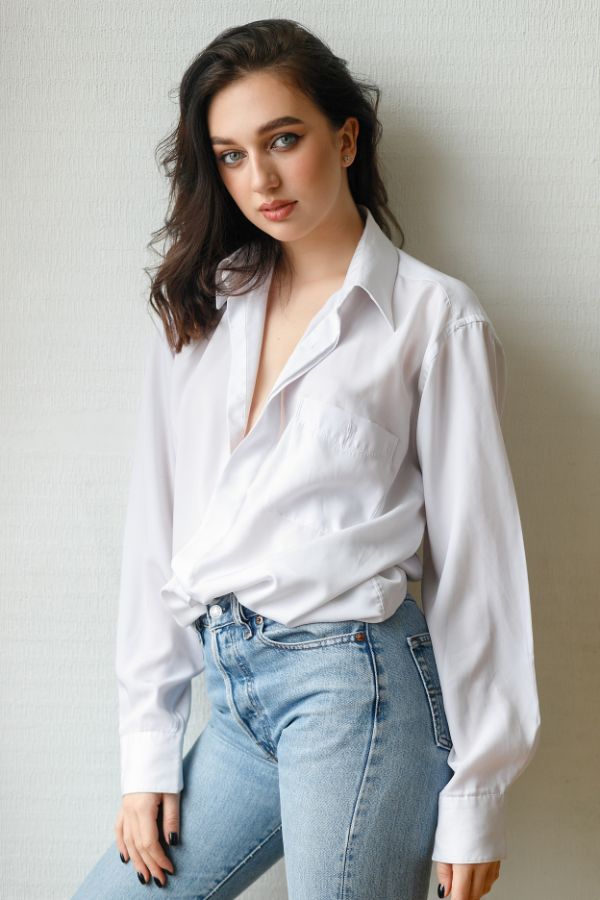 Knit Top + Maxi Skirt
Maxi skirts are the wherever, whenever style weapon for day date outfits for summer. Style yours with a sleeveless knit top and a pair of white sneakers and you're ready for what to wear on a first date for coffee or to the park.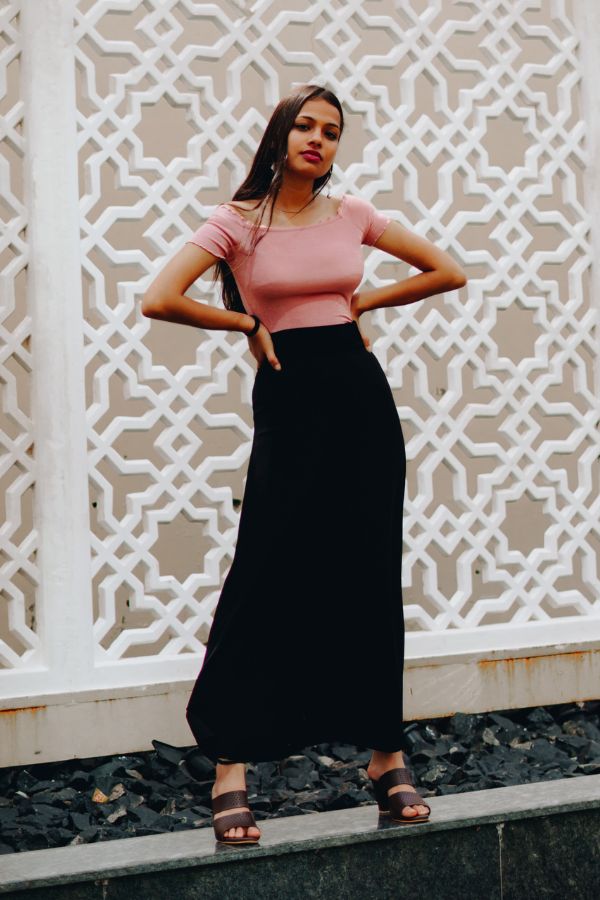 Add a cute leather jacket or jean jacket on cool days in fall or spring. Winter weather calls for a long sleeve knit and leggings tucked into tall boots.
What To Wear On A Dinner Date
Matching Suit Set
I recommend a matching suit set for a dinner date outfit because it's so polished and chic. Rather than going all corporate with a collared shirt though, try wearing a blazer or a waistcoat as a standalone top. There's definitely something intriguing and sexy about that look, without revealing too much skin. Add a silk or lace cami underneath if you need more coverage. Style with matching trousers (or dark denim) and a pair of low heels or slingbacks and you're set.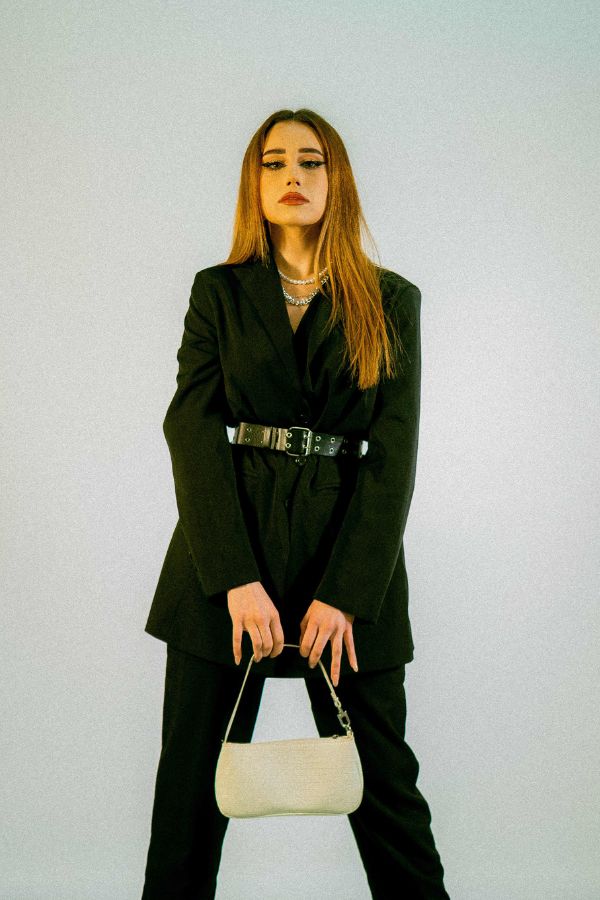 Flirty Dress
If you're going out for dinner at a stylish restaurant, a flirty dress is never a bad idea. Opt for a fit that flatters the shape of your body and you'll definitely dress to impress for what to wear on a dinner date.
Related Post: How To Dress Hourglass Shape: Master Style Guide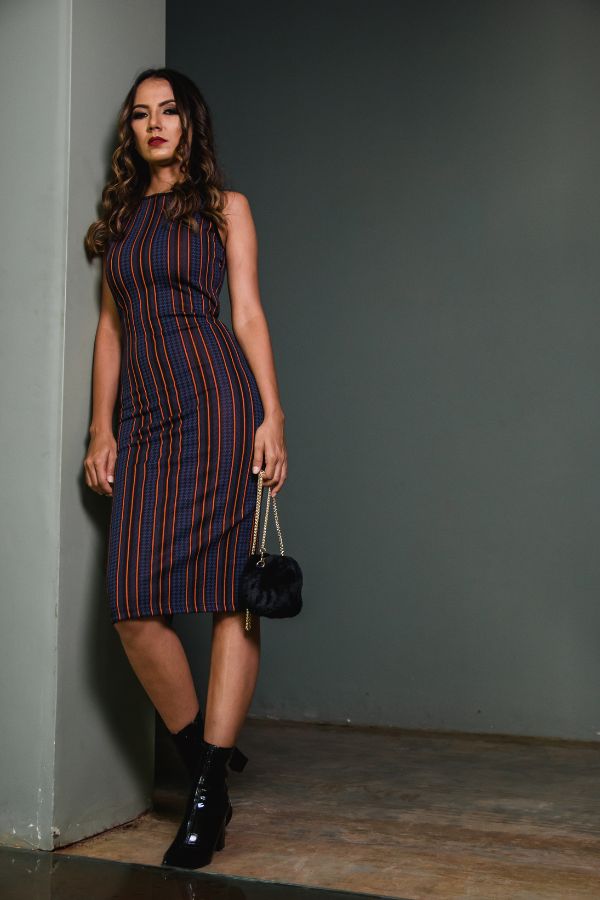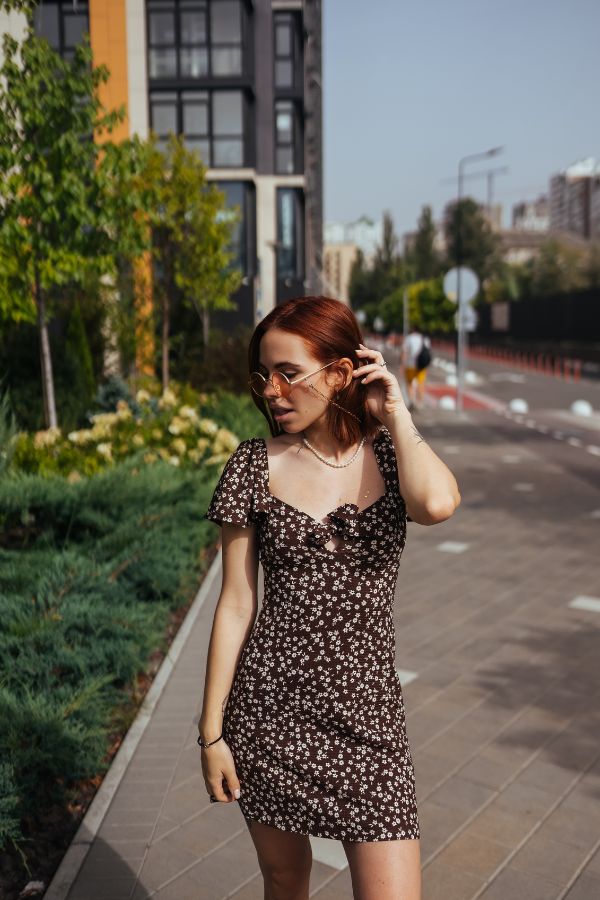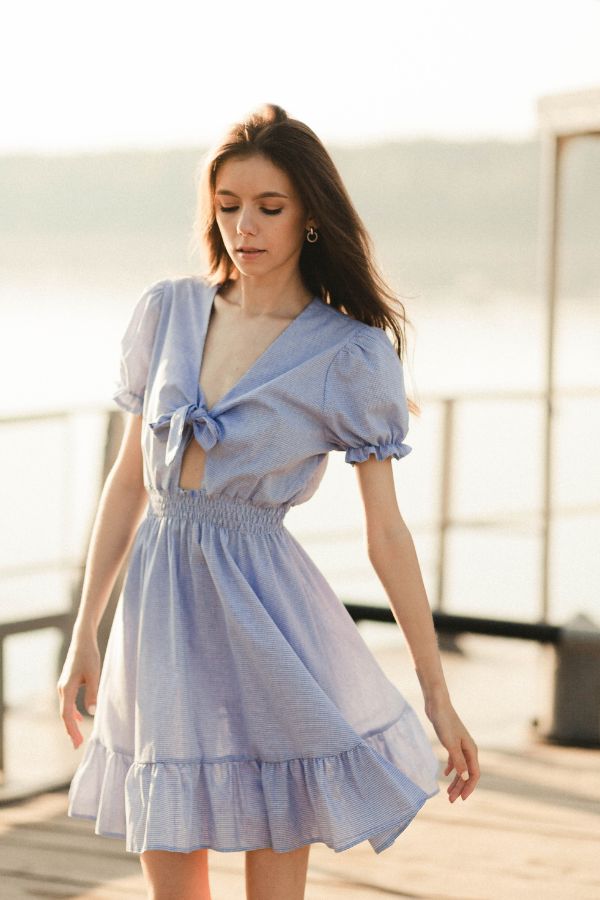 Off-The-Shoulder Top + Black Jeans
Maybe it's just me, but there's something really sexy about black jeans. They look like black pants but with the casual feel of wearing jeans. I recommend a pair of full-length flares, bootcut, straight leg, or slim for date night outfits with jeans. And, an off-the-shoulder top is perfect because you'll be sitting at a table for most of the date, so this shows some skin without being over-the-top.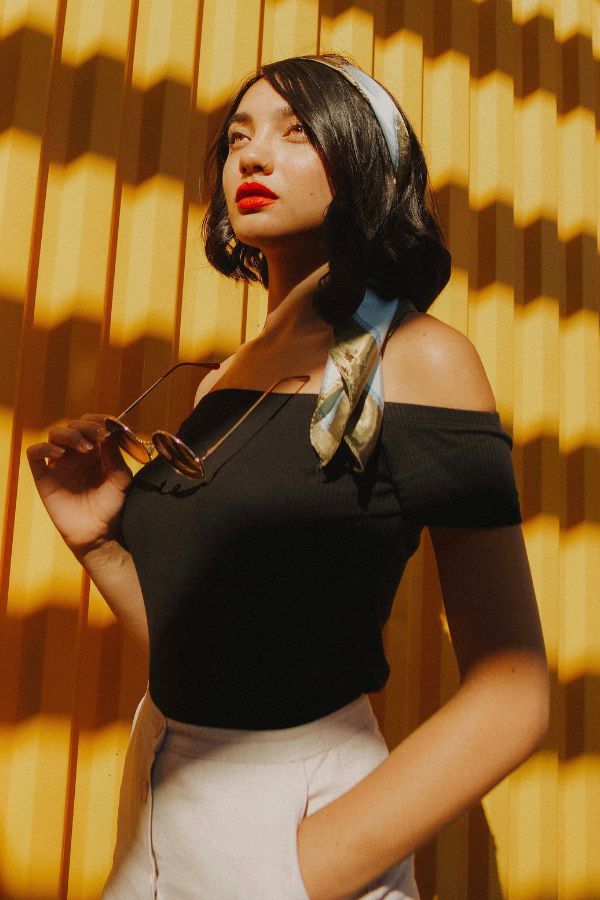 Blouse + Pencil Skirt
For this look, I'm thinking of my ladies going on a date straight from work without time to change. If you work in a professional office environment, there's nothing more chic than a flattering pencil skit and a feminine blouse for what to wear on a first date. I love a silk button-down shirt in a jewel tone or a sheer chiffon blouse. Dial up your curves with a cinched waist belt.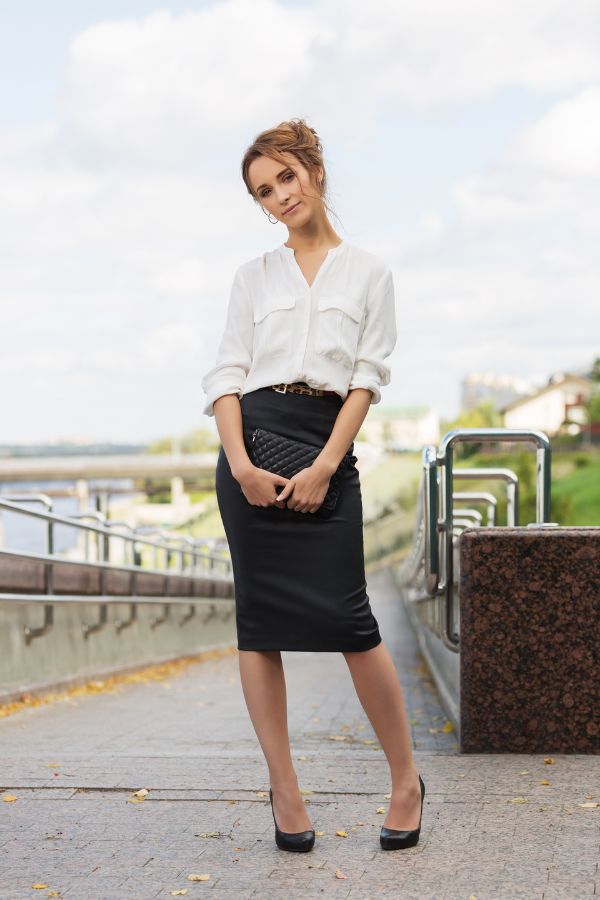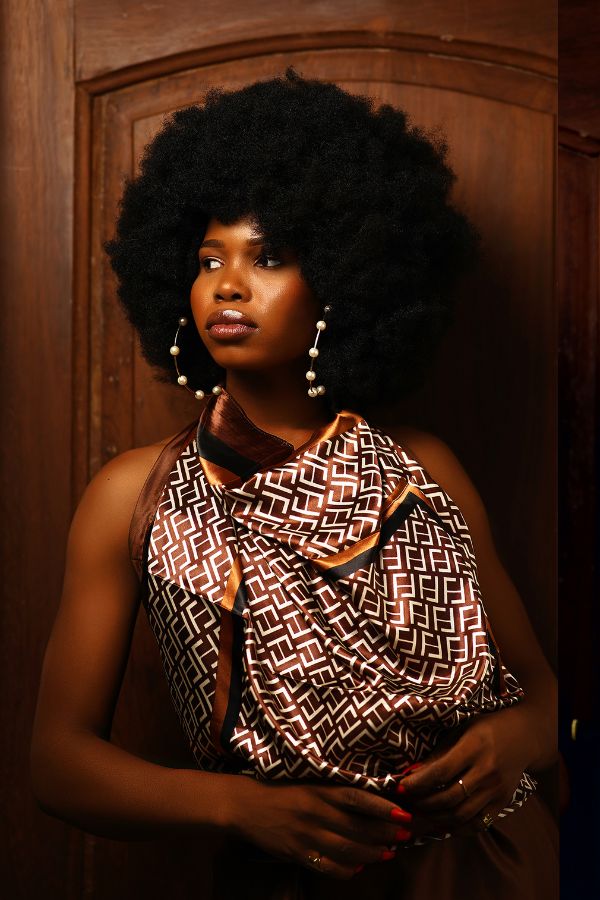 What To Wear On A First Date For Drinks
Monochromatic Top + Pants
I love monochromatic separates for a first date outfit to a bar. Style your entire outfit in the same color and play with different textures. Or go for a tonal look with colors in the same color family (e.g. different shades of green).
Related Post: 15 Perfect Bar Outfits For Your Next Night Out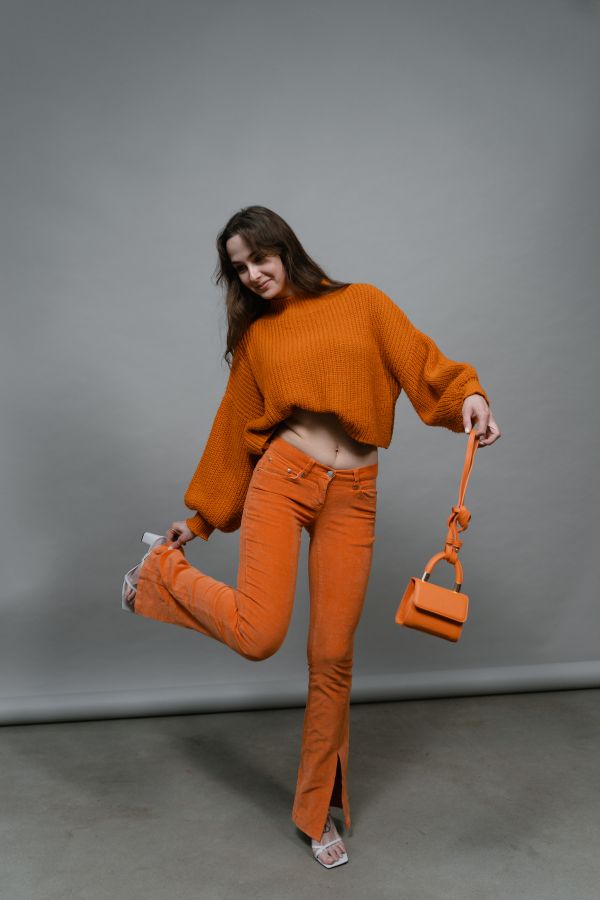 Knit Dress
A knit dress is both comfortable and stylish for what to wear on a first date for drinks. Go for a thin, slinky knit in the spring and summer, and try a cute off-the-shoulder style in fall and winter. Style with strappy heels or tall boots, and add a mini bag to complete your look.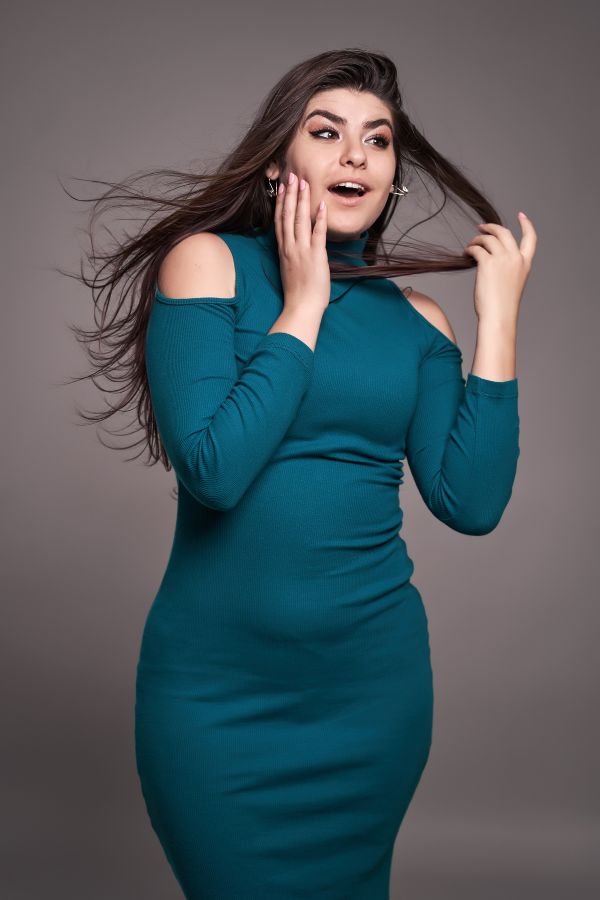 LBD
What type of first date outfit article would this be without recommending a little black dress? I mean, especially if you need a last-minute date night outfit. LBDs are no-brainer outfits as they are a mix of simple and sexy and you can swap out the accessories based on the time of day, event, or color you're in the mood for.
Related Post: How To Style The Perfect Slip Dress Outfit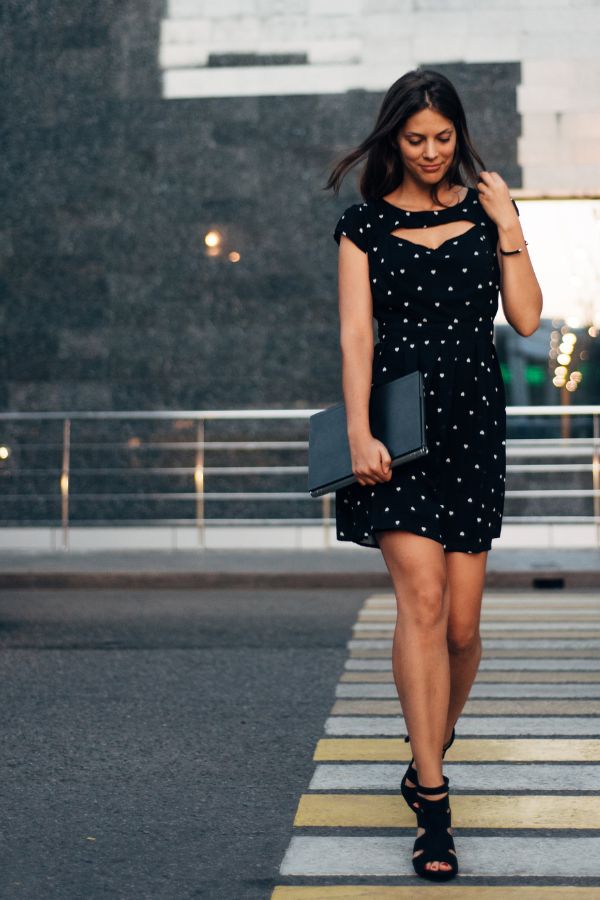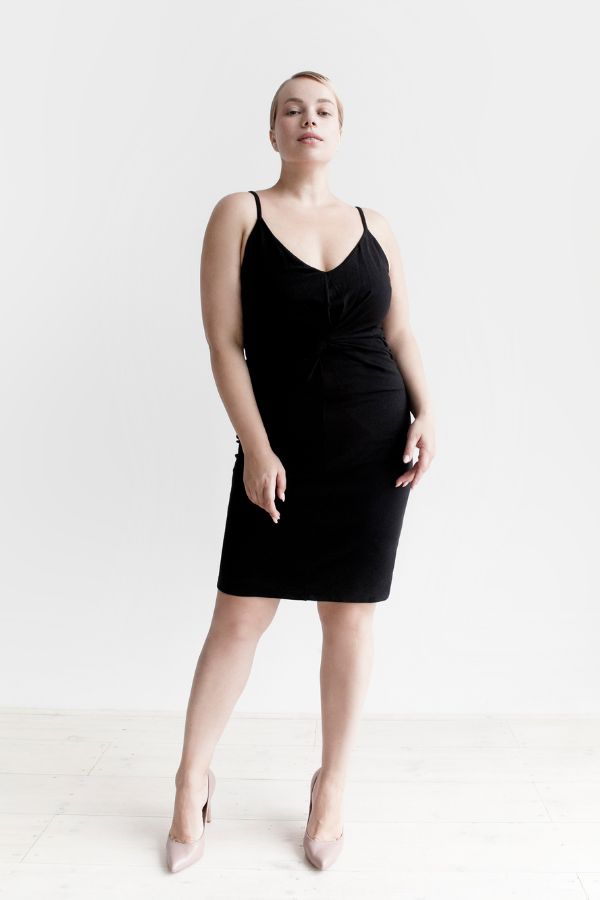 Cute Trousers + Simple Top
Some of us ladies are all about the cute pants, so what better to wear on a first date to a bar than your favorite pants. If you'll be standing and walking around, you get to show off your pants (and maybe your best asset). Let the pants do the talking and style with a solid-colored top or sweater.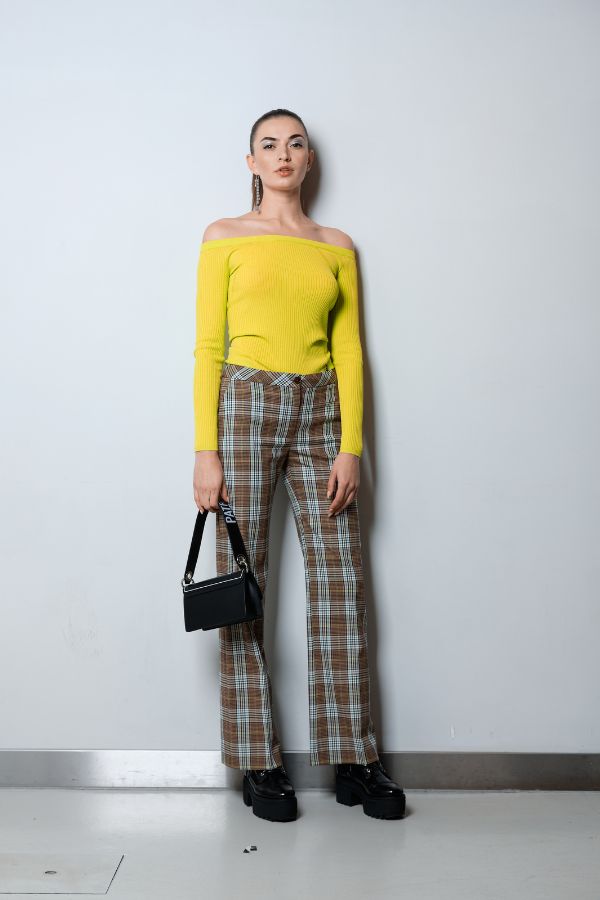 This post was all about what to wear on a first date
Related Posts: